When we moved from Western NC to Eastern NC, we had to give up our puppy.  We miss her so much...especially me because I was like "the mama" to our Lucy Lulu.  After having her for a little over 1 yr, we found ourselves giving her up.  
It still makes me sad...I had taught her to sit, and speak and do so many things in the short time we had her...she was a SMART puppy!  Miss dat puppy  =(
We do know that she has a wonderful home, and for that we are thankful.
This was the first night Lucy Pevencie K. stayed with us....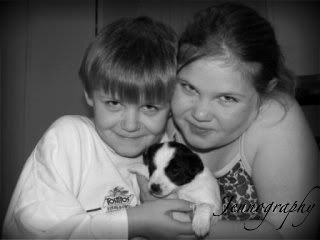 And this was the next spring after we had gotten her.  We then had to give her up that June.  But look how sweet she is!!!