I've been blogging for a few months now. Originally, I created this blog for myself as a little test to see if I would be able to actually keep up...and then I tacked on 2 blogs for each of our children. (of which I have not kept up too well on theirs).
Turns out, I have totally enjoyed writing by way of the blog! ;)
Recently, Jordan and Josh have expressed wanting to open up their own gmail accts, and create separate blogs to keep up with themselves. So I am working on this right now (in between packing and school...they do not want to wait!).
Jordan's
is up now if you want to check it out. She designed the header herself. Good Job Jordie baby!
Josh
also would like a (separate) journal that he can access. So, he is next. I thought this would also be a good way for them to do their "journaling" assignments too.
Perhaps some may (or may not have) wondered why I don't have any pics of the fam but of me on the header??? No, I don't think I am "all that"...(actually, it has taken me until about age 38 to think I am "ok")... more about that on a
secret Sat
. (Great Idea
Kalle
)
Well, here's the deal. Our original plan was to each have separate blogs that are linked together. I had planned to create a ministry blog especially for my hubby to write his thoughts and encouragement on. He is a Chaplain and Ordained Minister, but also a tremendous grief counselor. Therefore he most often has words of encouragement to share. In addition, we both have first hand experience with losses of loved ones, and abuse that we have both been through our past too. Someday perhaps I'll share some of this further on a "secret Sat" too. I think I may be giving away my
Secret Saturday
material!
Anyway, this plan has not come to fruition yet...
Currently, my husband (David) has too much homework with his chaplain residency CPE classes, and truly does not have time to keep up with a blog. I've been busy working, packing for our move, and homeschooling...so I'm trying to still keep up. Some weeks are better that others concerning keeping up with my blog.
I really like change, so I at least changed my colors and created a fun header to get me through until I do the major overhaul!
I just got to thinking that when I do the "major update" of my template, I'll put the whole family on there in the header.
Unfortunately, my husband also HATES pics of himself (I'm not too crazy about pics of myself either, but I figure most would like to see what we look like-or maybe not...lol). So I don't have a lot of updated photos of him...or even us together. I guess I could use older pics of the two of us...yet we both have changed. He always says, "Take you and kids without me". He even did this last Christmas when I tried to take a pic of all of us for our Christmas card. He would not let me, so I ended up doing a "Charlie Brown Christmas" theme and I took a photo of them at the beach for our card.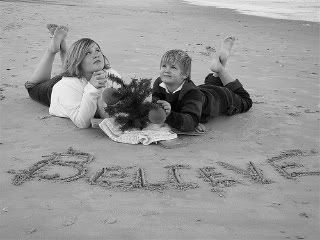 If it weren't for my friend Cindy taking some action shots of us at Thanksgiving, I would not have had a family pic at all. The quality it not that great though. It makes me a little sad because I love to have photos of ALL of us together. Is that just a man thing?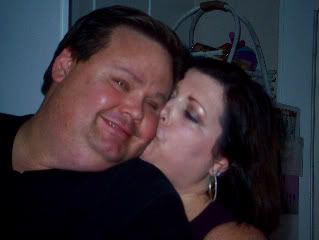 Anyway, that is the deal. :) In case anyone was wondering...